A Night Honoring Exceptional Generosity and Impact—in Brooklyn and Beyond
Leaders and friends of NYU Langone Health reunited on Wednesday, November 1, for the 2023 Violet Ball, celebrating a remarkable $2 billion raised since the previous Violet Ball in November 2019—and nearly $200 million through the event itself.
Nearly half of these funds were unrestricted, allowing the health system the flexibility to allocate resources where they are needed most—and reflecting the profound trust our supporters have in our institution and its ability to put philanthropic dollars to the best possible use.
The event honored Jackie and Mike Bezos and the entire Bezos family, longtime visionary partners to NYU Langone. The Bezos family has provided consummate and strategic support over several decades for key initiatives to remove barriers to health and wellbeing and transform care for children, families, and entire communities.
"What first brought Jackie and Mike to our doors was a powerful alignment with our central promise: to deliver one standard of outstanding care for everyone," said Dean and CEO Robert I. Grossman, MD. "At the height of Covid and a very low point for our city and especially its poorest neighborhoods, they linked arms with us to effect lasting change."
With their most recent gift of $166 million in 2021, the Bezos family launched the Beyond Bridges initiative: a model for community-wide health improvement beginning in Sunset Park, Brooklyn, designed to scale to health systems across the nation. Through a network of clinical and community-based efforts built on the strengths of NYU Langone Hospital—Brooklyn, the Family Health Centers at NYU Langone, and some of Brooklyn's most successful and engaged community-based organizations, Beyond Bridges seeks to bridge health disparities and address social determinants of health by more deeply embedding the health system in the communities that it serves.
"Jackie and Mike care only about their impact," said Ken Langone. "I have never met two people who want less of the spotlight on them. They are far too focused on shining light on others."
---
A video highlighted the unparalleled impact and promise of the Beyond Bridges initiative.
---
The Bezos family's story is an illuminating case study in the power of philanthropy to unite people, programs, and infrastructure to catalyze progress and transform health. Since NYU Langone merged with Lutheran Medical Center in 2016 to create NYU Langone Hospital—Brooklyn, the hospital has ascended to become one of the best and safest in the country, with an even lower mortality rate than NYU Langone's flagship Tisch Hospital in Manhattan. Jackie and Mike took these efforts a step further, recognizing even greater potential in Brooklyn and an opportunity to realize true system- and community-wide change.
"We set out to establish a new healthcare model that we hope will be replicated in communities across the country," said Mike Bezos. "There is an enormous amount of work to be done, and NYU Langone Health is all in and paving the way."
NYU Langone supporters' sweeping generosity in the past four years enabled NYU Langone not only to emerge resilient in the face of the COVID-19 pandemic, but also to climb higher, driving significant progress across its mission in patient care, research, and medical education. Today, the health system leads nationwide in quality and safety, including recognition as the top comprehensive academic medical center and ambulatory system for quality and safety by Vizient, Inc., with the highest grades across the board from The Leapfrog Group; both Vizient and Leapfrog are independent organizations who evaluate us using a wide range of performance metrics from across our enterprise. NYU Langone also continues to be recognized for its specialty care, with 10 specialties ranked in the top 10 nationally by U.S. News & World Report.
---
A second video looked toward the future of NYU Langone Health.
---
The Violet Ball was hosted once again at the iconic Metropolitan Museum of Art. Event proceeds will support the institution's research endowment, sustaining long-term research growth and further propelling innovation in medicine.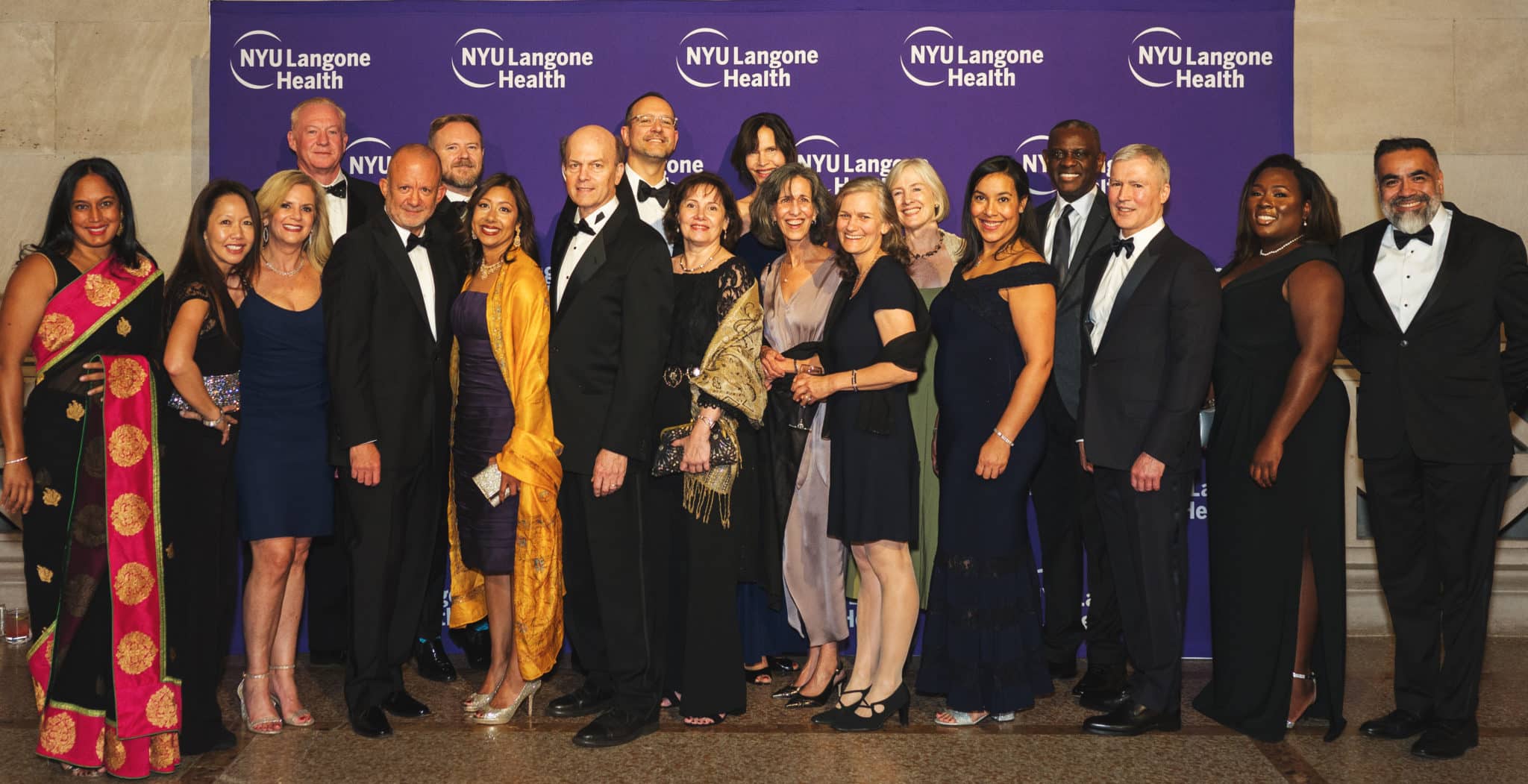 View the event photo gallery here.
---
See how far we've come